I don't get it. Does this fellow think this is the way to bring the Geulah??!!
We really seem to have learned nothing from this long and bitter Galus.
Translation of the remarks:
The passuk says,

כי יד על כס יה מלחמה לה' בעמלק,

the wise ones said the seat of God is not complete as long as Amalek is around. What does it mean "as long as", and "His seat is not complete"? כס, that is kippa sruga. Do you hear? As long as there is kippa sruga, God's seat is not complete, that is Amalek. When will the seat be complete? Where there will be no more kippa sruga.
I said [to Rav Shmuel Eliyahu's father] we will be in a sad state if we were to have a rav who is next to Drukman and all the people of Amalek. These are Jews?
(courtesy of
http://lifeinisrael.blogspot.com/2013/07/quote-of-day_14.html
)
Something I learned from Rabbi Amsalem's comment on this episode (see the comments for the link):
This is ROY's SIL
http://www.fxp.co.il/showthread.php?t=9293527
: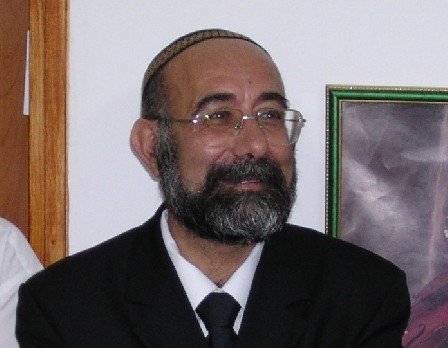 הרב יעקב צ'יקוטאי הינו רב העיר מודיעין-מכבים-רעות ו

נשוי לביתו של הרב עובדיה יוסף, רבקה יוסף

. הרב יעקב ואשתו, רבקה צ'יקוטאי, מוכרים בעיר מודיעין-מכבים-רעות בתור אנשי חסד ואנשי תורה שדואגים לציבור העיר, לדוגמה: אשתו של הרב יעקב, רבקה,
מעורבת רבות בעשייה העירונית והציבורית בעיקר בנוגע למקוואות והרב יעקב דואג להגיע
מדי שנה לפני ראש השנה עם שאר רבני העיר, לישיבה בה מלמד בנו, הרב ליאור, ושם עושים בהנהגתו ובהנהגת שאר רבני העיר, את טקס התרת הנדרים. הרב יעקב
מזוהה מאז ומתמיד בלאומיותו, בניו ובנותיו בישיבות ואולפנות, וכמובן, רב צבאי ידוע ומוכר.